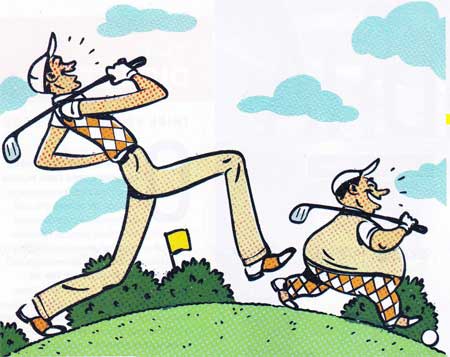 DIGEST HANDICAP: Picking Your Ideal Partner
Our Handicap Guru can you you win your next event
THE MEMBER-GUEST or best-ball city championship is near. With that in mind, here is advice on who you should and should not select as a partner.
In most competitions, the key to winning is making natural birdies or pars on holes where handicap strokes are assigned. The worst thing that can happen to a team is for both players to make a net bogey. The ideal, then, is for one partner to have a low Handicap Index and be the kind of golfer who seldom has a bad hole. The other partner should be a higher-handicapper who has the potential to make a lot of net birdies. In other words, the golfers shouldn't have similar handicaps. One note: The USGA recommends no more than an eight-stroke difference between the handicaps of tournament partners. If the range is greater, the team handicap should be reduced by an additional 10 percent.
Short-but-straight golfers want a partner who can bomb it, even if accuracy is sacrificed. The big hitter has a chance to reach long holes in regulation (or better), and the shorter partner provides stability.
It's also a good idea to find out how your prospective partners achieved their handicaps. If a handicap is based on scores shot in casual weekend rounds, when no thing much was at stake and most short putts were conceded, it might work against your team in a tournament. A player whose handicap is based mostly on competitive rounds and who is accustomed to holing short putts under pressure will likely be more reliable.
Avoid golfers with handicaps of 30 or higher. The USGA Handicap System has a built-in element called "bonus for excellence," which reduces the potential of such players. The higher the handicap, the less chance there is of overcoming that difference.
Look for golfers who have recently improved or are on a hot streak, because their Index might not have updated to reflect their playing ability.
Another great partner is a 20-handicapper who can reach par 3s and medium-length par 4s. That extra shot will come in handy around the green.
Still not sure whom to pick? Use the P-over-C formula. "P" equals Potential, which is the number of strokes a player's best score of his last 20 rounds beat his Handicap Index. "C" equals Choke,which is the number of strokes his worst score of the last 20 exceeded his handicap. Divide P by C; the player with the largest number is the best partner- on paper anyway. Example: A 15-handicapper has a low score of 8r in his past 20 rounds (six strokes under his handicap) and a high score of 97 (10 strokes above his handicap). P would equal 6 and C would equal 10, so P over C would be 6/10 (or .6). A 20-handicapper has a low of 84 and a high of 100 in his past 20 rounds. P equals B and C equals B, so P over C would be 1. Because 1 is larger than.6, the 20-handicapper is the better partner.
from DEAN KNUTH, former senior director of the USGA Handicap Department.
From Golf Digest July 2012, page 54