HANDICAP ADVICE: Net Skins Game
Q: Why is it that average players win our net skins games more often than low-handicappers?
A: This issue has been discussed for many years and causes some clubs to keep players with low handicaps out of skins games with double-digit handicappers. In most skins competitions, there are more average players than low-handicappers, and also there's a better chance that one of them will make a net birdie on any give hole than a low-handicapper will make a natural birdie. I always found that making golfers compete with only 90 percent of their course handicap makes skins competitions more equitable. Try it.
By DEAN KNUTH, Golf Digest Contributing Editor. Knuth, the former senior director of the USGA handicap department, invented today's Course Rating and Slope system.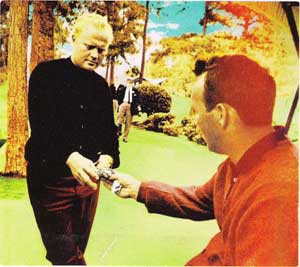 From Golf Digest May 2012, page 68