THE EARLY HISTORY OF HANDICAPPING PART ONE: In which the origins of handicapping are reviewed.
by Dean Knuth
In 1850, when Charles Loes painted "The Golfers," handicapping was a relatively simple proposition, with few alternatives available for equalizing the disparities in golfers' skills.
(click here or image for larger view)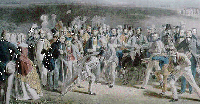 Is there an avid golfer today who doesn't have a USGA Handicap Index-or a guesstimate of one? Not likely. But how many golfers could guess at where and when the theory and practice of handicapping originated? In this two-part series by Dean Knuth, USGA Director of Handicapping, we'll explore the fascinating origins of that oh-so-important number.
The Scots invented many tools that revolutionized society, including the steam engine, the telephone, penicillin, and television-but it was their invention of golf that revolutionized the art of recreation. Few people know that the Scots also invented handicapping, that almost unique apparatus that allows players of any skill level to compete fairly against one another on the identical field of play.
The term handicapping originated in horse racing; a jockey was handed his odds for the race in a cap (hand-in-cap). But the concept far preceded the word. Early on, the act of allowing strokes in golf was called "assigning the odds," and was done by the precursor of the modern Handicap Committee Chairman, who was called "adjustor of the odds."
At the early golf clubs, betting was a prelude to bacchanalia. Betting on matches naturally led to creating odds; these bets and odds were carefully entered in each club's bet books.
(click here or image for larger view)

Thomas Kincaid, a medical student at the University of Edinburgh in the 1680s, kept a diary. In it, on January 21, 1687, he wrote the first known reference to handicapping, discussing options of betting. "At golf, " he wrote, "whether it is better to give a man two holes of three, laying equal strokes, or to lay three strokes to his one and play equal for so much every hole." Kincaid was comparing types of betting; was it better, he asked, to give a player a two-hole start every three holes and play with no strokes, or play even, paying three-to-one odds per hole? Captain Elphinston challenges Mr. Allan next Saturday best of three rounds, half a crown (currency) a hole, that he beats Mr. Allan with the Club against his throwing and gives him half one. No running at the throw! That match was halved.
Mid-19th Century professional golfers like Allan Robertson often derived a significant portion of their incomes through wagering on golf. The concept of giving strokes allowed Robertson to set up matches with golfers who weren't at his level.
Odds and Half One
Odds at golf, according to H. B. Farnies' Golfer's Manual (Great Britain; 1857), were:
Third-one a shot every three holes
Half-one a shot at alternate holes
One more a stroke a hole
Two more two strokes a hole

By the 19th century, a half-one was the most commonly assigned odds in matches between more- and less-accomplished players. Allan Robertson, who was generally considered the game's first professional player, kept a scrap-book of newspaper clippings of golf events. Non-golfers sometimes mistook the meaning of the odds; Robertson's album included this clipping, dated October, 1846:
Wife's Ignorance of 'Half One.
Some time ago, two golfers were anxious to have a happy round, one being inferior was to get half-one. His opponent coming to his house on the road to the Links, they talked over the match when he remarked, "I'm no able to gie ye half-one, I doubt"

The lord of the house answered "Nae fears o' that, ye can gie me half one an' can lick me too."

"Lick ye?" says his better half (wife). "Nae wonder if he gies you half-one at every hole (meaning half a glass of liquor), you'll be a bonnie miller before your round."
Handicap Contests
Golf began a slow growth in the British Isles, from 36 golf clubs in 1860 to 58 in 1870, but then it began to explode in popularity; by 1890, there were 481 courses, 1,571 by 1900, and 2,786 by 1909. With the growth of the game, tournaments became increasingly popular.
In the 1870s, English clubs adopted the term "handicap"; events with odds were called "handicap contests" or "handicap tournaments."
In January, 1875, at Westward Ho!, a popular handicap tournament took place; a story on it appeared in the Liverpool newspaper. How the handicaps were determined, according to the article, is especially interesting:
Great excitement has been manifested in the handicap tournament, which has lasted the whole week. The allowance given to each player was arranged in full conclave, and all had an opportunity of objecting to the smallness of their own allowance, either personally or by representatives, or also of demurring the contrary allowance; and any difference of opinion was settled by the vote of all present. The nearness of the (result) . . . demonstrates the advantage of settling handicaps by general consent, rather than leaving it to one or two.
By 1881, many clubs had adopted the procedure of averaging a player's best three scores of the year minus the scratch score (course rating) established by the club. Average players frequently complained about the system in letters to newspapers. This letter of October 29, 1881, is typical:
Sir: I greatly fear that the system of handicapping is such as to render it highly improbable that any but the best players will win.
Another letter, published on September 10, 1887, proposed the idea of a centralized handicap authority for each country to establish scratch scores for courses and fix handicaps:
I cannot but think it might be now desirable that there should be a central authority on golf, both in England and Scotland, more or less such as there is on curling in Scotland. A paid secretary for each would compile the handicaps of the various clubs . . . and would issue these at certain intervals.
In 1891, a Mr. H. H. Turner, of Greenwich, England, suggested that a portability problem existed with handicaps:
One of the advantages generally suggested as likely to result from the formation of a Golfing Association, is the possibility of ticketing players with a handicap applicable to all greens. I imagine the actual figure would not be the same in all cases: 7 at Wimbledon would mean 9 at Sandwich. The advantages of such a uniformity would be numerous . . . it would be possible to handicap visitors to a green quickly and satisfactorily.
In 1897, Mr. George Combe, Honorable Secretary of the Golfing Union of Ireland, developed a procedure to make handicaps more portable between courses using a "scheme of distance differences for par score." He wrote: "The par score of Lahinch is 89, at another club, 71. If my handicap is 12 at the second club, ought I not get 15 at Lahinch?"
His idea was implemented in 1927; for 50 years, it was called the "corresponding handicap scheme." (To be continued next month.)