KNUTH FAMILY TREE
In my search of Carl Knuth, (my Dad's grandfather), I found some interesting information. His grave in Augusta, Wisconsin calls him Charles Knuth. However he came to America in 1862 as Carl Knuth on a sailing ship from Hamburg, Germany to New York City. He was in his early 20's. He had traveled from Wyrzysk, Prussia to Hamburg to get onto the ship to America. Ellis Island was not open yet and they processed him where Battery Park is today. If you had money at the time, you could go anywhere in America. He had none, and as a German immigrant was given the choice of being settled in either Wisconsin or Iowa. He had a friend that was going to Wisconsin, so that is what he chose. They were taken by rail in cattle car-like rail cars with "Immigrant" painted on the side. In Milwaukee he was issued some tools, a keg of nails, a roll of hemp and sent on his way. He traveled to the Madison area and worked on a farm until fall and then promptly joined the Wisconsin volunteers (Company K) in the Civil War with the promise of a short war and a free 144 acres of land after the war. His unit was composed mostly of German immigrants and most, including Carl, did not speak any English, except for basic marching commands. Some of his friends were captured during the war and the Confederates could not understand why Germans were fighting for the North and where their loyalty came from. In many of the cases, they were trying to get some land after the war. That was their goal in coming to America in the first place. Carl fought in the central part of the USA and then with General Sherman's march through Atlanta to the sea. Just before the war ended he was wounded with a mini-ball high on his leg at the small battle of Greensboro, NC. He still managed to "march" in the big parade at the end of the war in Washington DC and then was shipped back to Wisconsin. Through the Veterans Administration archives, I have all of his health records, which show that they could not amputate because the wound was too high and they had trouble getting the bullet out. He suffered lead poisoning much of his remaining life and had associated problems such as chronic diarrhea. Despite that, he got his free land up in the Augusta, Wisconsin area, cleared it, suffered through severe winter weather and built a farm. He married a much younger woman and had children, one being William, who had a big family that multiplied. My Dad, Herbert, was one of William's children. They all stayed in the area and most were farmers. By the way, it was hard to find Carl's records because when he joined the Army, they spelled his name "Kanuth" (What a nice spelling. It sure would be a way to get people to properly pronounce the "K" in my name. I go through life being called Mr. Nooth by anyone that doesn't know me.) After his death, his widow had to go through a legal process to get his last name corrected to Knuth so that she could receive a Civil War veteran's pension on the order of $20. per month. That was a lot of money and it allowed her to hire a hand to work the farm with her children.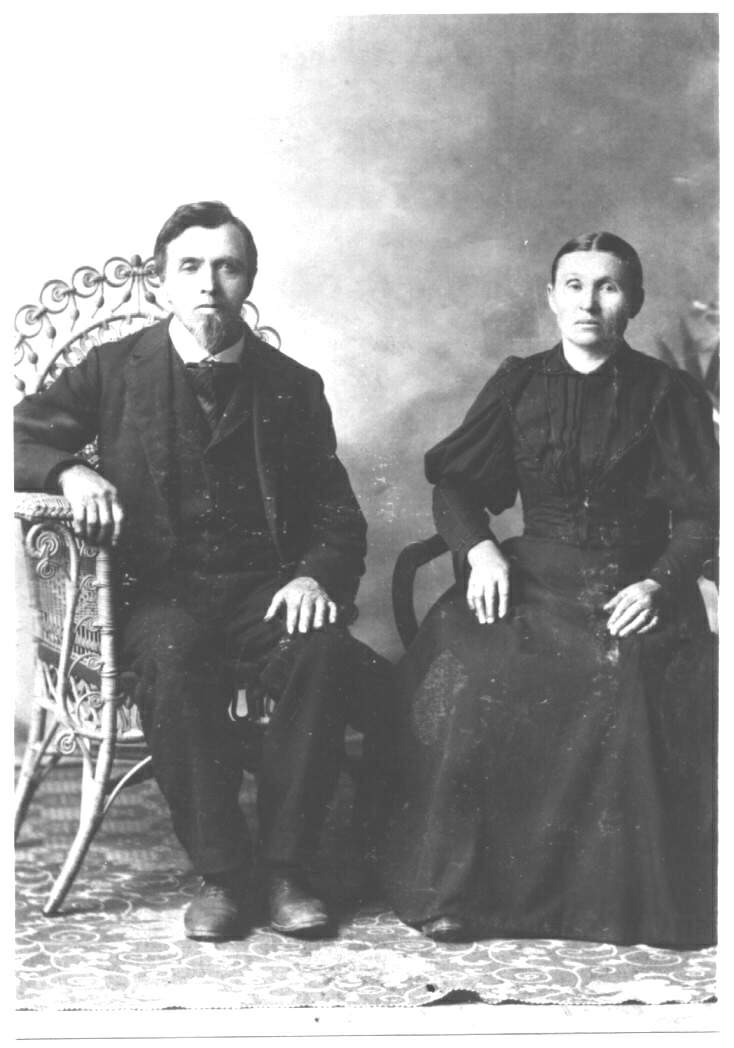 In July of 1991, I traveled to Berlin, Germany and drove into Poland to the birthplace of Carl. It was hard to believe how backward that this area is even today. Hardly anyone has a car and the roads are mostly one lane wide with traffic backed up behind horse drawn (or human drawn) carts. The village where he was born and raised is called Wyrsitz by the Poles, and used to be part of Prussia in the German Empire. After World War II, and long after he had left the country for America, it became Poland. I met the mayor of the village and an interpreter who also was the only Doctor in the area. They told me that when the Russians stormed in at the end of WW II, they murdered all of the innocent German farmers that remained, just because they "didn't have the sense to leave". I was shown where the German Lutheran church had been. The Russians tore down the church and all that remains is a grove of trees around where the church had stood. The German cemetery was totally desecrated. The Russians bull dozed all of the grave markers into a big pile that has been untouched over all of these years. The Poles have taken over the cemetery and are burying their dead on the same land. A Russian cemetery is nearby. The Russians also destroyed all of the birth records and marriage records of the Germans. However, the mayor very proudly gave me the birth record of the world famous rocket scientist, Werner Von Brawn, who also was born in this small village. He had one record of a Knuth, who was a girl who married a Kraft at the turn of the century, so there are no Knuth's in the area today, or since the end of World War II. The only church is a Catholic one. I bought a hand made leaded cut-glass bowl in the village for the princely sum of $15.00 and it was the largest sale at one time in years.
I did manage to get some birth information from the Mormon Church. I have German birth records from them that show that the Knuth's originally came to Prussia from the South East Coast of Sweden in the late 1790's. They were Knuthson's and later became just Knuth's, dropping the Swedish ending. They were farmers in Prussia (landman's, as they were called). Wyrsitz is still all open farm country, with hay carts being pulled by hand, or a horse if the farmer is rich. The Doctor in the village was the most highly paid person and he made about twenty dollars a month, plus he lived over the hospital clinic. Everyone there is quite poor. I gave the mayor a gift of a golf rain jacket that said "USGA" on it and he was so thrilled that he invited me back to participate in their wild boar hunts. I lost touch with them all, but it was a great adventure. Also, I knew that my wife would be worrying about me so I tried to place a phone call to her at our hotel in Berlin and found out that to make a long distance call, you have to reserve the call by appointment 24 hours in advance.
There are thousands of Knuth's today in Germany and in the United States. There just aren't any in what had been Prussia.